The Lord's Prayer: Revisiting contentment – "Give us our daily bread."
---
DOPRY-1-230118
length:
68:47
- taught on
Jan, 18 2023
---
Class Outline:
January 18,2023
Paraphrasing something I heard pastor Greg Laurie teach last Sunday, "If your knowledge is not changing you it's not worth much."
If you have died with Christ to the elementary principles of the world, why, as if you were living in the world, do you submit yourself to decrees … in accordance with the commandments and teachings of men?
If you're still living as a worldly person, your knowledge is not worth much.
One of the ways in which Christians continue to live in worldly affairs is the desire for worldly treasure. I did not say having it, for we all have some of it, but the desire for it akin to the love of it.
Picture: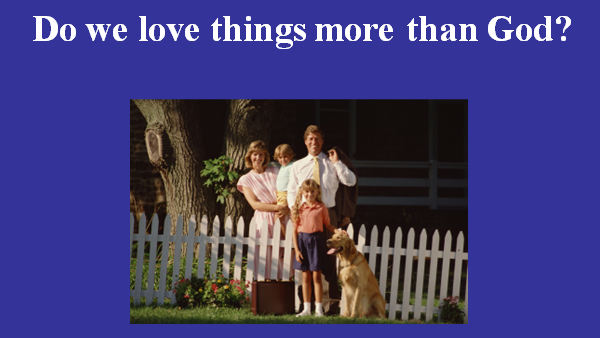 How many Christians over the centuries have been church going people who outwardly seem quite righteous but who, in their heart, value their earnings, home, marriage, children, and family more than God? As what did Christ describe those who love others more than Him?
[find source of story from Bordham, I think]
The fourth petition in the Lord's prayer, which we have spent one class on already, is about our contentment with the physical provisions which are graciously given us by God. The petition, rightly believed, will stop us from seeking more than we are given and from seeking different things than we are given.
Give us this day our daily bread.
"Give us today our daily bread," means to be content with whatever God provides and to not long for or search out more or something different. Being content in body and mind will free us to pursue godliness with all our heart and to reap its gain.
The class we did on this petition focused on Paul's letter to Timothy:
But godliness actually is a means of great gain when accompanied by contentment.
A lack of contentment is a very serious problem for mankind. When people are discontent, they make terrible decisions in the pursuit of what they think is the source of happiness. They are never satisfied. Discontented people end up hurting themselves and others.
2PE 2:12, 14-15
like unreasoning animals … having eyes full of adultery and that never cease from sin, enticing unstable souls, having a heart trained in greed, accursed children; forsaking the right way they have gone astray …
To be content is to be satisfied with God's provisions under His will and to not desire other things outside of His will.
Contentment is hope in the future - seeing a confident and bright future because of God's grace and mercy and love.
Consider it all joy, my brethren, when you encounter various trials, knowing that the testing of your faith produces endurance.
"Give us today our daily bread" - refers to all of our needs which God alone provides. We must be satisfied with them.
If anyone advocates a different doctrine and does not agree with sound words, those of our Lord Jesus Christ, and with the doctrine conforming to godliness, 4 he is conceited and understands nothing; but he has a morbid interest in controversial questions and disputes about words, out of which arise envy, strife, abusive language, evil suspicions, 5 and constant friction between men of depraved mind and deprived of the truth, who suppose that godliness is a means of gain.
Paul reveals that discontented people are always looking for something other than godliness. And in fact, there are some who think godliness (their misconceived version of it) is a source of material gain. In other words, they see reward in godliness (in their case - religion) as something else other than godliness. "Let's build a church, or a Christian non-profit organization, or a school, or seminary so that we can get lots of people and big offerings and we'll be noticed and all will want to come to us." That could be an okay mission if you rightly answer; come to you for what? What are you offering, or what are you taking or hoping to get?
Paul states that godliness is the great gain (vs, 6), but only so when we are content with God alone (whatever He gives us physically and whatever spiritual gift or ministry He imputes to us).
The profit of godliness comes when godliness (Christ-likeness) alone is utmost desired - contentment with God alone.
This contentment Paul ties to material things by the famous line:
For we have brought nothing into the world, so we cannot take anything out of it either. 8 If we have food and covering, with these we shall be content.
"For we have brought nothing into the world, so we cannot take anything out either." The white picket fence and the comely house it surrounds are staying here.
God speaks a lot in His word about the rich and the poor. He doesn't condemn having money, but He frequently condemns the love of money and the pursuit of it over the pursuit of Him, and this He does with clear threats and condemnation. This is why He says the poor are blessed.